CNA Technology
Information Technology and Internet Service Providers
Information technology enables growth opportunities every day.
Shouldn't your business insurance anticipate its growing risks?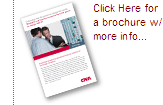 Information technology and internet service providers understand the only constant is change. At CNA, we understand that your business insurance must adapt to those changes. CNA has a deep commitment to the technology industry, dedicated underwriters across the U.S., industry expertise and comprehensive insurance programs. Whether you are protecting your property, your people or your professional reputation, we can provide the solution for your business insurance needs.
Coverages designed to help protect what you've built.
Information technology and internet service providers of all sizes rely on our industry experience to minimize the emerging risks they face. That's why we developed an exciting new insurance program - TechCompleteSM. The new coverage package includes Property, General Liability, and Technology Errors & Omissions with Information Risk and Media Liability endorsements. All in one package with just one bill. Together with your independent insurance agent or broker, we can help you minimize exposures, defend against liabilities and protect the long-term interests of your business.
Additional coverage options include:
International
Employment Practices Liability (EPL)
Workers' Compensation
Umbrella
Crime
Marine Cargo
Inland Marine
Directors & Officers (D&O)
Automobile
 
When it comes to finding reliable protection for your business, supported by dedicated expertise and exceptional service from your agent... we can show you more.®
 
Risk control services to help you better understand and manage exposures.
With more than 20 technology-trained risk control consultants at your service, CNA stays on top of industry trends and the emerging issues that affect today's businesses. Together with our underwriters and claim specialists, we provide webinars, newsletters and on-site consultation to help you and your employees understand and avoid business risks. The CNA School of Risk Control Excellence® offers additional learning opportunities to help you and your team identify and reduce exposures that may cause a loss. Course topics include ergonomics, property, product liability, workers' compensation, and privacy and network security, as well as a course on mitigating risks designed especially for information technology and internet service providers.
Dedicated claim service is there when you need it.
We understand that every minute that your business isn't fully operational, you lose the ability to meet your customers' demands. Should you ever have to file a claim, you can be sure there will be dedicated CNA claim service representatives that understand the fast pace of the technology industry. They recognize the importance of getting claims resolved quickly, accurately and fairly so you can get back to business as usual.
Strength and resources dedicated to your success.
When you trust your coverage to CNA, you can be confident that your policies are backed by the financial strength and stability of a national carrier rated "A" by A.M. Best. With resources located throughout the U.S., Canada and Europe, CNA provides property and casualty products and services supported by focused expertise and nearly $55 billion in assets. Our competitive coverages, deep understanding of the technology industry, risk control and claim knowledge, local underwriting, and commitment to you and your independent agent can you help manage risks and reduce costs.
Return Home
  |  
Our Staff
  |  
Products
  |  
CNA Technology
  |  
Quotes
  |  
Our Companies

Claims & Policy Services
  |  
Information Request
  |  
Directions to Our Office
  |  
Agency Acquisitions


Important Note: This website provides only a simplified description of coverages and is not a statement of contract. Coverage may not apply in all states. For complete details of coverages, conditions, limits and losses not covered, be sure to read the policy, including all endorsements.